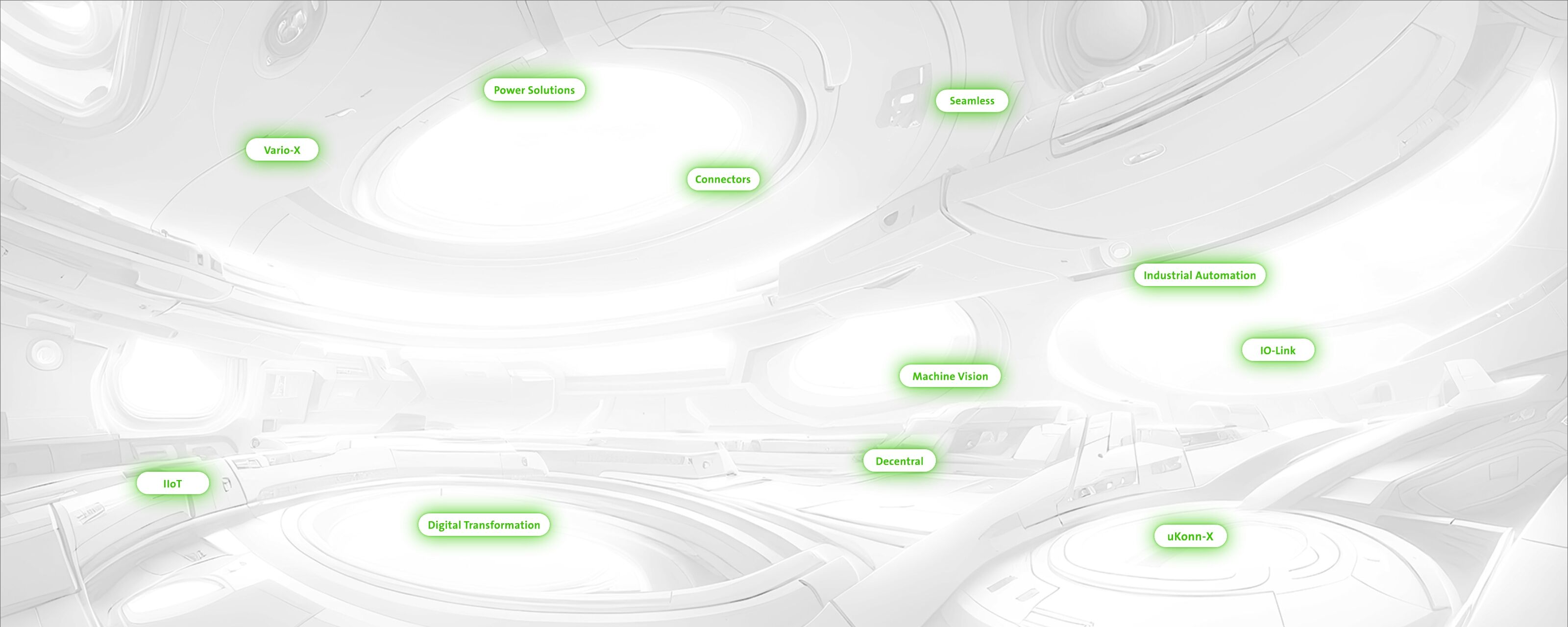 Automation Expo 2023 | Mumbai
follow us into the FUTURE
That was the Automation Expo 2023 with Murrelektronik
Connected Future. Seamless and Decentral.
At Automation Expo 2023, we showed you how we connect you to the future: Seamless and decentral! This is how we set the course for you to become future-proof while remaining innovative. This is how we connect old with new, analog with digital. This is how we pave the way to digital transformation for you.
Decentralization must be thought out, planned and implemented in the overall system. Hardware and installation concept must work hand in hand for this. The installation concept and installation technology therefore play a decisive role - both must complement each other to form a holistic system. That is why we have integrated our entire know-how, our entire expertise and a large part of our product portfolio in an exemplary installation for intralogistics. It gives a great overview of how seamless, decentralized automation works and what benefits it offers.
In detail we had the following news and highlights:

Connectivity Heroes
For us, connectors are the heroes of automation. Because in networked production, intralogistics, packaging or the process industry, nothing works without connectors. Their performance determines whether digitization succeeds. Automation is only as good as its connectors. They bring everything together, allow signals, data and currents to flow, ensure safety, smooth operation and error-free installation. Real connectivity heroes - made by Murrelektronik!
And we have many heroes in our portfolio: all connection types from M8 to M23, RJ45, valve connectors, ... Profinet, Ethernet, Ethercat, all coding, protection classes up to IP69K, every conceivable type of cable types such as PVC, PUR and so on. And all that in any length from 30cm to 100 meters, in 10cm steps - according to the motto: You name it, we've got it.

Vario-X
The first modular and flexible automation system of its kind, in which all automation functions can be implemented on demand and decentrally - i.e. without control cabinet architecture. Vario-X consists of the platform of the same name and the accompanying automation and installation concept. It brings sensor and actuator technology into the direct machine environment and ensures seamless integration of decentralized servo drives for reliable voltage, signal and data management.

Machine Vision Installation Systems
Murrelektronik is your partner for machine vision installation solutions. When it comes to power supply and signal and data management for the smart networking of camera technology, we are the right choice. The focus is on decentralized, directly in the machine environment mountable and pluggable modules such as switches, IO modules and power supplies as well as on a correspondingly powerful assembled cable and connector technology.

uKonn-X
The first seamless, digitally and visually supported system with bidirectional communication between design, development, assembly and commissioning. It avoids installation errors and at the same time raises impressive savings potentials.

IO-Link
Murrelektronik offers a broad IO-Link portfolio. A total of eight multifunctional IO-Link master ports are integrated in the new IP67 fieldbus modules "MVK Pro" and "IMPACT67 Pro", and even high currents can be realized thanks to L-coded M12 connectors. In addition, the Ethernet protocols PROFINET, EtherNet/IP and EtherCAT can be easily operated.

MQ15
Nothing works in production without power, because machines and systems need power - reliable, easy to install and safe to operate. Murrelektronik offers you a solution for this with the standardized power connectors of the MQ15 series. A ¼-turn is all that is needed for secure engagement and the connector is sealed to IP67.